Video of "Deathly Hallows" Ready for Delivery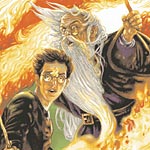 Jul 17, 2007
Uncategorized
It's getting closer everyone! The day Harry Potter and the Deathly Hallows will be released is just a few days away, and now Sky News in the UK has some tantalizing footage of the books being packed up ready for delivery to stores and homes every where. To watch(no spoilers!), click here.
Security does remain tight for this book. Reuters is reporting the lengths the publishers are going to, in order to try and keep the book and the contents secret and safe until July 21.
"We have had security all around the building, 24 hours a day, seven days a week," Barnes & Noble Chief Executive Steve Riggio told Reuters.

In Britain, The Sunday Telegraph reported trucks carrying books from warehouses to shops will be fitted with satellite tracking systems to ensure they stick to assigned routes, while pallets of books have been fitted with alarms in an operation estimated to cost $20 million.
While a few Death Eaters may try and spoil it for anxious fans out there, a reminder that this website will not be posting such spoilers. Constant Vigilance everyone!