Muggles Leak "Deathly Hallows" Online, Magical World Resisting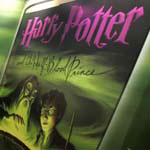 Jul 18, 2007
Uncategorized
In efforts by what surely must be the worst sort of Muggles, we at TLC are sad to report that there has been an attempted leak of Harry Potter and the Deathly Hallows that is now online. As the Associated Press is reporting, various bit torrent and other sites have purported copies, scans and the like of what may be a copy of book seven. Publishers are taking this quite seriously as Scholastic has started started court proceedings on several sites in order to stop these spoilers from appearing online.
Fans (both Magical and Muggles alike) are owling in efforts to stop the leaks, and this is helping in the process to keep the book secret until the release in a few short days. As quoted in press reports, Kyle Good of Scholastic says that:
"A lot or our tips about spoilers are coming from fans," Good says. "There's a groundswell from fans who find these links and send them to us, saying, `I'm not going to look at this, but somebody told me about it.'"

"I just hope they find these people and punish them accordingly," said Leaky Cauldron Web master Melissa Anelli. "This is exceedingly wrong and mean-spirited. Let people enjoy their book, for Pete's sake."
Neil Blair, an attorney for UK Potter publishers Bloomsbury and J.K. Rowling, is cited by the Times newspaper (in a spoilerish article, alas) as he:
"confirmed today that some genuine material from the seventh Harry Potter book had been posted on the internet – but said that there was also much bogus content circulating.
The Times article (again containing spoilers we will not be posting) says:
A spokeswoman for Bloomsbury, the book's UK publisher, would not confirm or deny today that the leaked version was the real thing, but said that "vast quantities" of material purporting to be the book were circulating.

"People are being very clever putting stuff online. There are many different versions and it's easy to use Photoshop [photo editing software] to make something look very real. We're asking people not to spoil the book for fans," she said. "We're getting phone calls from people in tears saying: 'I don't want to find out what happens.'"

A spokesman for Scholastic, the book's US publisher, said: "There's so much out there that is confusing for fans. Our lawyers are trying to keep down the amount of spoiler traffic and clear it from places where fans might be reading."
As a reminder, this website will NOT be posting spoilers. Constant vigilance everyone!