The Beginning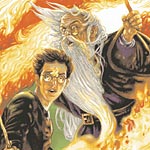 Jul 21, 2007
Uncategorized
We're about 25 minutes away from receiving the book, here in Naperville, Ill. It's just about starting to feel real, guys. Congratulations on making it here. Thank you for all the fun and laughter over the past seven-plus years.
There's been a lot of speculation over the past few months about what happens now – about how we as fans go on, about what changes now that our series is complete. The answer is this: Nothing. We continue loving the series, we continue loving each other, we continue celebrating what has brought us all together and that which has absolutely no chance of breaking up now.
As I type this I'm sitting on my knees on the pavement and my friends are using their feet to keep my computer from falling onto the ground. It's real friendship out here in Illinois. These little things – holding up someone's computer, holding hands as we walk into the bookstore, fixing someone's Hufflepuff robes, straightening someone else's Slytherin tie – are what stick with us. Living through this time together has been a privilege and and honor for all of us. We cannot wait to see through to the next era of Potterdom TOGETHER.
And now a HARRY, HARRY! chant has started. It's really time. We'll see you all soon.