Clip of "Today Show" Interview with J.K. Rowling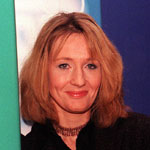 Jul 24, 2007
Uncategorized
Previously we told you that author J.K. Rowling would be the subject of an exclusive interview on NBC's "The Today Show," which will air later this week. A preview clip was broadcast this morning on the program, and you can now watch a clip from this new upcoming interview with Jo, here. In this clip, Jo speaks about her emotions while writing Harry Potter and the Deathly Hallows.
In the article that accompanies the video clip, Jo speaks again about how emotional it was for her to finish the novel, and says I was hard to live with," for week after completing the final installment of the series. Jo continues on to note that "I need to be off writing," for a short time now that the book has been released.
We hope to have this clip for you in our galleries shortly and will update when we can. The entire interview with J.K. Rowling will be broadcast on "The Today Show" this Thursday (July 26) and Friday (July 27) mornings.