Reminder: JKR Open Book Tour Sweepstakes Starts Monday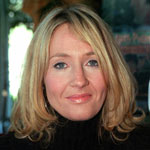 Jul 27, 2007
Uncategorized
Previously, we told you that author J.K. Rowling would be going on tour here in the US this fall, making several appearances available for schoolchildren, with one event open to the general public. As a reminder, starting this Monday (July 30) a sweepstakes opens for Harry Potter fans to win tickets to the open event which will be held in New York on October 19. In a press release just issued by the Harry Potter publishers, Scholastic says the following about the Open Boor Tour Sweepstakes:
"One thousand lucky fans will be selected in a sweepstakes and will receive a pair of tickets to an evening with J.K. Rowling at Carnegie Hall on Friday, October 19th at 7 p.m. Rowling will read from Harry Potter and the Deathly Hallows, the seventh and final book in the Harry Potter series, answer questions about the entire series, and sign copies of her latest book. (Please note that if a winner is under the age of 18, the winner must bring his/her parent or legal guardian as the guest. Additionally, no one under 7 years of age will be admitted to the event.)
US fans ages 7 and older can enter (only ONE PER PERSON) starting Monday, July 30 via www.scholastic.com/harrypotter or print and mail your entry to :
Scholastic
Attn: J.K. Rowling and the Open Book Tour Sweepstakes
557 Broadway
New York, NY 10012
Entries must be submitted by August 31, with the winners notified on or about September 14, 2007. "The J.K. Rowling Open Book Tour will include three events to be held for schoolchildren in Los Angeles, New Orleans and New York City, in addition to the event at Carnegie Hall for sweepstakes winners. School districts in the host cities will select which schools and which children will participate. (Please note there are no public tickets available for these school events.)" GOOD LUCK everyone!