Dan Radcliffe Talks OotP in New Interview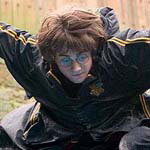 Jul 03, 2007
Uncategorized
Interviews with Dan Radcliffe just keep rolling in today, our new Order partner DanRadcliffe.com got the opportunity to speak with Dan recently about his role in Harry Potter and the Order of the Phoenix. During a break from filming, Dan spoke of his experience working with Imelda Staunton, who plays Dolores Umbridge, where he remarks as scenes with her being the most interesting to film so far. Dan also discusses scenes soon to be filmed (at the time of the interview) where he must show a powerful anger as well as how he feels his character, Harry, copes with tragedy in the film, saying:
Generally I think he copes very badly, but I think what I admire about the way he copes is he tries to cope with it on his own. He doesn't make his problems other people's problems. He just sits there and actually tries to work it out on his own. The only person he sort of really, really reaches out to is Sirius. He usually reaches out to Dumbledore, but Dumbledore is being aloof this year, which is another thing to add to his frustration.
Harry Potter and the Order of the Phoenix will be in theaters July 11.