PotterCast 98: Thousand Oaks, California!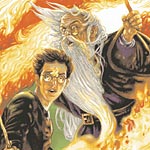 Jul 03, 2007
Uncategorized
Thousand Oaks, California is PotterCast 98's destination on our summer tour for PotterCast, our Harry Potter podcast! To listen, just hit the "Play" button on the right side of the page (—>), or use iTunes, or direct download.
Live from Thousand Oaks, CA:
– 5 questions: Harry Live, Snape is Good, Harry is not a Horcurx, Harry won't return to Hogwarts for school, We will travel behind the veil?
– Cannon Conundrums: Did Dumbledore have a Last Will like Sirius did? If so, who would be listed in it and what would be give whom?
– Thousand Oaks rocks at the Dueling Game.
– Fan Reactions: Snape is neither good nor bad; Tom Riddle's trophy for "Special Services to the School" might be a Horcurx; Being cleared of all charges, why wouldn't Hagrid be able to get a new wand? Did Dumbledore and Snape have an unbreakable vow? Magical Creatures could play a large role in destroying Horcruxes, and more!
RT: 1:11:47
Editor: Matt Kelliher
PotterCast's Summer of Seven Tour
HarryPotterSeven.com
Harry and the Potters
Podcast Alley
Digg
Direct download (30 MB).
Direct download low-bandwidth (9 MB).
To see photos from this live PotterCast, go here in our Image Galleries! If you have photos from the event that you'd like to share, please email us at [email protected]
Remember you don't need an iPod to listen. Listen easily on iTunes, which you can download and install here, by clicking here to listen, or you can just use the streaming Flash player at PotterCast.com or just on the right side of this page. Discussion of the PotterCast is right here. Enjoy!