Dan Radcliffe Speaks to MTV About "Order of the Phoenix"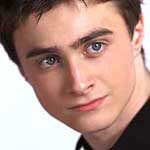 Jul 04, 2007
Uncategorized
MTV's "Rough Cut" has spoken with Dan Radcliffe (Harry Potter) in a series of three new video clips now posted on their website. Discussing the new Harry Potter and the Order of the Phoenix film, in the first video Dan tells us about the 'Dumbledore's Army' storyline, his character becoming a teacher to the many students and about learning there are the new types of "bad people in the wizarding world" he is facing. Next, Dan speaks on his characters emotional state in the film, being affected by loneliness and death and the two 'flawed relationships' Harry has in the film. Finally, the third clip, Dan is asked about the much talked about 'Harry's first kiss' with Katie Leung, who plays Cho Chang, and what it was like to film.
You can watch these three new clips via the MTV website.
Update: We now have the three MTV Rough Cut interview clips in our video galleries!
Is Harry becoming more political?
What is Harry's emotional state?
What was it like to shoot "the kiss?"
Huge thanks to our Galleries Angels!
Readers who wish to read Mr. Radcliffe's comments from the videos, can now read the text of this interview over on MTV.com.