More TV "Order of the Phoenix" Special and Appearance Reminders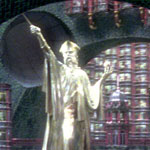 Jul 05, 2007
Uncategorized
Along with the OotP online special and ABC Family Sneak Peek Weekend we announced earlier, readers in the UK, Canada and the States will have the opportunity to view a number of TV specials coming up in the next few days. Here is a reminder of the latest:
This Saturday, the 7th, UK station ITV1 will broadcast a 'Harry Potter: Behind the Magic' television special. Included in the program will be interviews with the cast and a tour of the many sets used in the film. It will air from 7:30pm – 8:30pm BST directly following a showing of Harry Potter and the Philosopher's Stone. Digital Spy now features a short clip from the ITV special, that you can view here. The clip features a crash course in proper wand use with a wand expert and a short part of an interview with Helena Bonham Carter (Bellatrix Lestrange) who details her characters unique wand in the film.
The following Sunday, readers in the States will have the opportunity to see a new special called "The Hidden Secrets of Harry Potter' which will feature our Floo partner Steve Vander Ark from the HPLexicon, along with others who will take a closer look at the Harry Potter series. Set to be broadcast on cable station A&E, it will air on July 8 at 10:00pm EST.
In Canada, the Bravo network's 'Scanning the Movies' series will take a look at Order of the Phoenix on July 6th and 13th at 8pm EST.
As we have announced before, J. K. Rowling will be interviewed on the Jonathan Ross program this Friday July 6 on BBC1 at 10:30pm BST.
Finally, BBC Radio 2 will have actors Daniel Radcliffe, Rupert Grint and Emma Watson on as guests to talk about Order of the Phoenix during the Steve Wright In the Afternoon Program, July 6th during the broadcast from 2:00 – 5:00pm BST.
Just as a reminder to all, if you are able to capture any of these programs, please do, and send them in to [email protected]
Thanks to Wendy, Ryan, Christine and all who mailed!