Docket Number: 777 – Trial of Severus Snape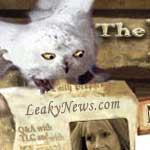 Jul 07, 2007
Uncategorized
You are invited to witness the trial of Severus Snape!
Professor Severus Snape has been charged with the murder of Headmaster Albus Dumbledore and will stand to face the charges against him beginning at 10:40am EST today in our own Leaky Lounge. It'll be the trial of the decade! Watch as the trial unfolds throughout the day and as such high profile witnesses as: Draco Malfoy, Bellatrix LeStrange and Severus Snape himself, take the stand on this Lounge wide event.
Don't miss this day as we recap Harry's six years at Hogwarts, and shed some light on the event at The Lightening Struck Tower. We'll spend the day hearing various testimonies, with Rita Skeeter herself getting the witnesses' reaction to being on the stand.

After the trial, you will have the opportunity to decide the guilt or innocence of Severus Snape. Don't miss your chance to proclaim Snape's guilt or innocence!
Don't be late, the first witness is set to take the stand shortly!