Emma Watson in this Weekend's 'Parade Magazine'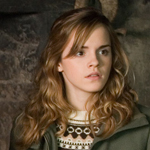 Jul 07, 2007
Uncategorized
Parade Magazine continues its coverage of the stars of Harry Potter and the Order of the Phoenix with a new interview with Emma Watson (Hermione Granger) that appears in this Sunday's upcoming issue, which is carried in many Sunday newspapers around the country. In the article Emma discusses the issue she first brought up in an interview last month in the UK's Tatler Magazine- the fame of female celebrities and the media, as well as her return for the final two Harry Potter films and also comments on the close bond she has formed with co-stars, and friends, Rupert Grint and Dan Radcliffe saying, in part:
"You can't really explain to someone what this experience is like' Watson says. "I'm glad that we have each other. I would have been so lonely if it was just about one kid." The three have gone from rambunctious children to teens dealing with early romantic fumblings both on screen and off. "When I was younger, they used to tease me' she adds. "And now they're quite protective."
The issue also features a number of new photos of the actress. They can also be seen here in our Image Galleries.
Thanks to verushkaa for letting us know!