Five Ways to End Harry Potter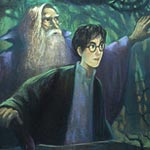 Jul 08, 2007
Uncategorized
The New York Times has published a special five-piece opinion section asking several authors and an artist to write/draw about how they think Harry Potter should end. The contributors, Damon Lindelof ("Lost" head writer), Meg Cabot (novelist), Larry Doyle (former "The Simpsons" writer and current screenwriter), Polly Harvath (author) and Andrea Dezso (artist) all offer their interpretations, including two pieces that would be considered Harry Potter fan fiction. Lindelof maintains that Harry should die, saying:
Because if there's one thing we like more than explosions, it's surprises. And even though 8 out of 10 of us want him to die, we know in our hearts that he won't.

And that's because Ms. Rowling wouldn't dare.

She can't whack Harry because there are rules that must be followed when it comes to how one ends a grand mythology. Good triumphs over evil. Hope overcomes despair. Paper covers rock. Harry wins. Voldemort loses. The Ewoks sing.

And this is precisely why Harry has to die.
Thanks to all who sent this in!