LA Times Profile of Imelda Staunton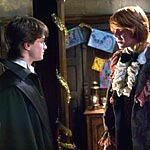 Jul 08, 2007
Uncategorized
The Los Angeles Times has a lengthy profile of Imelda Staunton, the actress who plays Professor Dolores Umbridge in the latest Harry Potter film, Order of the Phoenix. Playing a character Stephen King described as "the greatest make-believe villain to come along since Hannibal Lecter," Mrs. Staunton found it difficult herself, to play the role. Describing the scene where she puts the character Harry Potter (Dan Radcliffe) through his first detention as "horrible," she goes on to say of that scene:
"I was fine at the time, but afterward, you're inside that skin for a while, and it's not a very pleasant place to be. It's an adult abusing a child, and whether you're a mother or not, for a female to do it to a child is unthinkable and unbearable and intolerable."
The article also features quotes from director David Yates who notes in the article, Mrs. Staunton was his sole choice to play Umbridge. He says of his choice:
"She's a great serious actor who can also do wit really well," he says. "For the Potter universe, you need that slightly heightened, slightly playful, slightly eccentric thing. But when you peel away a layer, there has to be something really substantial underneath."
Mrs. Staunton also discusses her role as the title character of "Vera Drake," which won her an Oscar nomination, and her life during that time. You can read the entire piece from the LA Times, right here.
Harry Potter and the Order of the Phoenix will be in theaters July 11.