"Order of the Phoenix" Review Round Up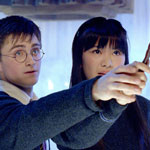 Jul 08, 2007
Uncategorized
The first review of Harry Potter and the Order of the Phoenix was released via The Times little more than a week ago, and now more papers are following, publishing their reviews of the film.
A three and a half (out of four) star review comes from Peter Travers of Rolling Stone Magazine who writes an excellent review of the film, remarking:
All the actors excel, notably Gary Oldman as Sirius Black and Alan Rickman as Severus Snape, but it's the tale itself that hurtles the movie along. That momentum carries you over the film's few rough patches. Order of the Phoenix, the best of the series so far, has the laughs, the jitters and the juice to make even nonbelievers wild about Harry.
Empire Online also recently released their review of the film, giving it four out of five stars.
The Telegraph posted a further review of the film which comments on the "brilliant performance" of Imelda Staunton and of the somewhat condensed nature of Phoenix.
Finally, Newsweek is publishing their review in the upcoming July 16th issue of their magazine, but you can read it now. The review highlights the performances of Imelda Staunton and Gary Oldman, Dolores Umbridge and Sirius Black respectively, by saying:
Staunton as the horridly cheerful, scarily funny Umbridge and newcomer Evanna Lynch, who plays the blonde, ethereal Luna Lovegood, a new ally of Harry's, with just the right off-kilter spaciness. Another standout is Gary Oldman as Harry's godfather, Sirius Black, whose hidden London digs are headquarters for the Order of the Phoenix, a secret underground organization devoted to fighting Voldemort's growing army of darkness. And, as always, Stuart Craig's production design offers endless visual delights: perhaps the most notable addition being the vast, black-tiled Ministry of Magic buried deep below London, where Harry is summoned to go on trial.
More reviews are sure to be published in the coming weeks and we will bring them to you when they come online. Order of the Phoenix will be released in theaters July 11th.