Verdict Delivered In Snape Trial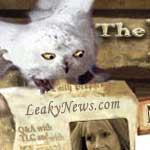 Jul 08, 2007
Uncategorized
The defense built him up and the prosecution tore him down. Severus Snape went on trial today in the Leaky Lounge for the murder of Hogwarts Headmaster Albus Dumbledore. Witnesses took the stand, the prosecution and defense questioned, Rita Skeeter reported, the Judge oversaw, and late this afternoon the case was handed to the jury. After a quick deliberation process and vote, the jury returned with their verdict.
The Charge: The murder of Albus Dumbledore using the unforgivable curse, Avada Kedavra.
The Verdict: Guilty.
The Sentence: A lifetime sentence in Azkaban, but with the possibility of parole.
The "Trial of Severus Snape" that took place today in the Leaky Lounge was an overwhelming success and more importantly, a really great time for everyone who came in and was involved. This was due in no small part to the TLC staff who contributed so much time, effort and creativity into making it happen. We must thank everyone who was involved in the Lounge wide event today… and we will! Big thank yous go out to:
Aislinn, Expelliarumas, Prongs Patronus, Poet, futureweasley, Sooner Gryffindor, fawkes28, Mr. McGonagall, NickTLC, DorisTLC, AlexTLC, NickPTLC, Kadi, freedomstar, praxagora, atschpe, Moriah, SeverineSnape, Narya, libbysmom, Hagiographer13, jrg1990, HPMommy, Rudius Hagrid, Hedwigger7, Bemused, Katie, Piewacket, Lils, Punky, JaneMarple, erisedfororrim, always_a_sidekick, cnprpl, Elizabeth18, Fwooper, nimbusflyer and MirandaV.
This event would not have been possible without you guys and every single person who witnessed the trial unfold.
This is however not the first time Severus Snape has been put on trial. He was on the stand last at Accio 2005 where he was found not guilty and on SpinnersCast, where he was also tried.