More from Ian Rankin on Possible J.K. Rowling Mystery Novel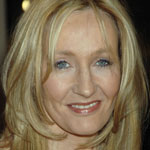 Aug 20, 2007
Uncategorized
A follow up for you today on the rumor that author J.K. Rowling is currently writing a mystery novel. While reps for Jo are quoted in a new article in The Times as saying "we do not have a definite plan of what her next project is yet' there is more from author Ian Rankin and now noted mystery author P.D.James has weighed in on this matter. UPDATE: The Guardian is now reporting that Mr. Rankin is calling this "a joke that got out of hand," said Rankin, describing how the remark was made on stage during the course of a festival event. There were 600 people in the audience, and only one person didn't laugh," he added.. Emma Schlesinger, speaking for Rowling's literary agent, Christopher Little, was keen to stress that the crime novel rumours were "unfounded"."JK Rowling is taking a well-earned break following the English language publication of Harry Potter & the Deathly Hallows and there are no firm plans as yet as to what her next book may be," she said.
Readers will remember that it was comments first from Ian Rankin, who is a long time neighbor of JKR in Edinburgh, Scotland, which spurred this latest flurry of rumors on the prospect of a forthcoming mystery novel. Over the weekend Ian Rankin said
"My wife spotted her writing her Edinburgh criminal detective novel' he said. He declined to elaborate on how he knew about Rowling's new direction, but conceded he had not discussed it personally with her. He added: "It is great that she has not abandoned writing or Edinburgh cafes."
Today Mr. Rankin is cited in the Times article as saying more about Jo's writing style, noting "Her process is classic crime writing – the set-up, the red herrings, the characters who change as they are revealed, the twists and turns, and finally the big lineup at the end."
Author P.D. James is also very complimentary about Jo, saying her skills as a writer would work well in the mystery genre.
PD James, 87, creator of the Adam Dalgleish mysteries, said she saw no reason why Rowling should not become a successful crime writer. "She certainly has all the skills' James said. "She is immensely popular with adults and children. She has done a great service to literature by encouraging children to read on that scale. It is a huge achievement to get children queuing for books in the numbers they do."
While this is all very exciting, please keep this very much in the rumor category for now.