Rupert Grint Talks "Half-Blood Prince" Script and More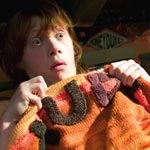 Aug 22, 2007
Uncategorized
Actor Rupert Grint has made a few public appearances lately, attending the popular V festival concert in the UK (photos here), as well as appearing on the Jo Whiley Radio Show. Thanks to our Order parter RupertGrint.net, we now know that during the radio interview which was broadcast on BBC Radio, Rupert spoke about the upcoming sixth Harry Potter film, which is due to begin filming next month. Rupert is quoted as saying:
We sort of read the script through. We got all the cast to come around to read the script and we'll be filming it for another year so.. Ron's got a girlfriend in this one. It's a little bit more intense for him! [laughs] So it should be fun!"
To listen to this interview, click here, select Monday under where it says "Listen Again." Rupert talks about the HBP film just after the 21:00 mark on the player. Also be sure to check out a very funny interview taped with Rupert at the V festival concert, where Rupert shows us a very cool jacket that has …goggles (rather useful too for Quidditch). Enjoy!
Thanks much to our parters at RupertGrint.net!