"Harry Potter and the Deathly Hallows" by the Numbers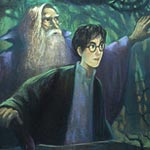 Aug 07, 2007
Uncategorized
The US publisher for the Harry Potter series, Scholastic, announced that more than 11.5 million copies of Harry Potter and the Deathly Hallows, the seventh book in J. K. Rowling's series, have been sold in the during its first ten days of release. The book, which sold more than 8.3 million copies during the first 24 hours of its release, also increased its total US print run to 14 million, up from the original 12 million copies Scholastic was slated to print prior to the publication. From the press release:
Scholastic was printing copies of Harry Potter and the Deathly Hallows right up to the final hours prior to release and, with pre-orders and reservations climbing at an incredible pace, the Company was able to print enough additional copies to be in position for re-supply following the launch. The additional copies brought the total number of the U.S. edition in print for the seventh book to 14 million.

Currently, Harry Potter titles and the deluxe edition of Harry Potter and the Deathly Hallows hold eight spots on the USA Today bestseller list. In the U.S. alone, there are currently 140 million copies of the seven Harry Potter books in print.

…

To date, over 350 million copies of the seven books in the Harry Potter series have been sold worldwide.
On a related note, online retailer Amazon.com revealed the final numbers for pre-orders of Harry Potter and the Deathly Hallows. Worldwide, Amazon.com received more than 2.2 million pre-orders by midnight on July 20th surpassing the 1.5 million pre-orders the site took for Harry Potter and the Half-Blood Prince, the previous record holder. A total of 1.4 million pre-orders came from the States, 1.3 million of which were delivered via Muggle post to readers across the country on July 21st.