Daniel Radcliffe Speaks with a Forked Tongue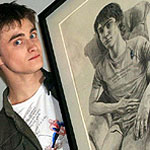 Sep 10, 2007
Uncategorized
Well it wasn't quite speaking in tongues per say, but it would seem that actor Dan Radcliffe (Harry Potter) has followed the lead of Ralph Fiennes as Lord Voldmort, by revealing the joys of a forked tongue, or in this case multi-forked. Yes, really. Check out this absolutely quirky yet hilarious appearance of Dan today on the Ellen program.
In a related note, Dan Radcliffe continues his slew of media appearances and interviews in conjunction with the release of his new film "December Boys." Dan will be appearing tomorrow for lucky fans in the UK on the Jonathan Ross Film 2007 program. This show will also feature a look at Kenneth Branagh's (Gilderoy Lockhart) new film "As You Like It."
Finally, in another very funny interview, Dan was interviewed by the Associated Press, where Dan joked about his role in Harry Potter saying "l'll be starting Harry Potter 6 and then that will go to the year 2040." He also confirmed yet again that there are definite plans afoot to stage "Equus" here on Broadway, probably in the fall of 2008, with his definite plans to reprise his role in the play, along with fellow Harry Potter actor Richard Griffiths (Uncle Vernon). To read this interview, click here (note to parents, slight mature content in interview)
Thanks to Michael, elefuff and gryffindorlion!