WB: Harry Potter Films Now the Top Grossing Franchise of All-Time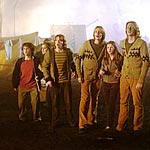 Sep 11, 2007
Uncategorized
Variety is reporting tonight that Warner Brothers has announced the Harry Potter film series are now the top-grossing film franchise in movie history. Amassing a staggering " $4.47 billion worldwide," the series about the boy who lived has surpassed the box office totals for all 22 of the James Bond films, as well as the six "Star Wars" films.
UPDATE: Warner Brothers has now issued a press release to TLC with more on this achievement, and includes the following:
In addition to holding the franchise box office record, all five of the Harry Potter films have the distinction of being among the 20 top-grossing box office hits of all time.

In making the announcement, Alan Horn said, "It would be an understatement to say we are proud of the success of the Harry Potter films. We also want to congratulate all of the extraordinary actors, filmmakers and artists who have shared this remarkable cinematic journey with us."

Dan Fellman, Warner Bros. Pictures President of Domestic Distribution, said, "It is a thrill to see the Harry Potter franchise reach this unparalleled mark, and, with two movies yet to come, it is amazing to think what heights the franchise could reach by the end of the decade.

Veronika Kwan-Rubinek, Warner Bros. Pictures President of International Distribution, added, "This worldwide box office record once again proves that the appeal of the Harry Potter movies knows no border, no age limit, and no language barrier. Each of the five films has captured the hearts and sparked the imagination of audiences everywhere."
Reports Variety:
Bond, which dates back to 1962, has generated $4.44 billion worldwide and the "Star Wars" pics have pulled down $4.23 billion since the first release in 1977.

For its part, Fox says that the "Star Wars" franchise would, with adjustment made for inflation, actually translate into $6.21 billion; MGM had no comment about what Bond's adjusted B.O. would be.

And domestically the "Star Wars" franchise still far outpaces the boy wizard. All told, the "Star Wars" pics have grossed $2.18 billion, while the "Harry Potter" franchise has grossed $1.41 billion. But then there are still two more "Potters" to go.

And all three have generated millions upon millions in downstream ancillary coin for their studios, once homevideo and TV revenue are added into the tallies.
The final two Harry Potter films have yet to be released, with Harry Potter and the Half-Blood Prince set to begin principal photography in a few weeks and is due in theaters November 21, 2008. The Harry Potter and the Deathly Hallows film is set for release some time in 2010.