Video of Dan Radcliffe Discussing Info from JKR on Fate of Harry Potter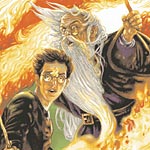 Sep 13, 2007
Uncategorized
Last week, at a conference call with fan sites, we at TLC asked actor Dan Radcliffe about the fact that author J.K. Rowling had given him insight into the fate of Harry Potter in Harry Potter and the Deathly Hallows. Today, MTV asked Dan Radcliffe this same question, and there is now video online of the actor discussing how Jo revealed a tidbit after seeing him in Equus last year before the release of the final book. Dan also is complimentary about fellow actress Evanna Lynch about her insights and predictions she made about "Deathly Hallows" To watch this video (SPOILERS AHOY) click here.
In a related article, Dan discusses the upcoming "Half-Blood Prince" movie, confirming filming begins next week on September 17. Dan notes that he is looking forward to watching co-star Rupert Grint film his scenes as Ron Weasley, when the character has to kiss his new girlfriend Lavender Brown. Dan Radcliffe says "I'm going to be on set pointing at him every time. It's going to be funny."
The Harry Potter actor also mentions the film version of "Harry Potter and the Deathly Hallows," noting how difficult it will be to get all the material into the script.
"It's going to be a hell of a challenge for the writer," he said. "There's other bits [in other books] you can cut, but I don't see anything in 'Deathly Hallows' you can cut. [Author] Jo [Rowling] always talks about the chapter she had written in her head before anything, when Harry's going to face Voldemort, and I'm really looking forward to doing that. It should be powerful " if I don't screw it up. Of course, I'm saying all this hoping it won't be cut. I don't think it can be, it's so vital."
To read this article, click here (note to parents, slight mature content with interview)