Dan Radcliffe Interview Video Roundup (Updated)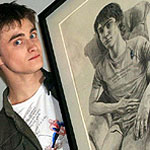 Sep 14, 2007
Uncategorized
A number of actor Dan Radcliffe's recent television appearances we've been telling you about are now available for readers to watch in our own Video Galleries. Here is a short roundup of Mr. Radcliffe's most recent interview clips:
First, the Ellen DeGeneres program on NBC featured a short Q&A with the actor during his appearance earlier in the week. The clip, we first showed you here, features Dan during an audience Q&A can now be seen here in our Video Galleries.
Dan also appeared on MTV relating a meeting with author J. K. Rowling where they discussed "Harry Potter and the Deathly Hallows" prior to the release. You can watch this clip in our Video Galleries, but readers who have not yet finished the seventh book should be cautioned, Dan relates some Book 7 plot spoilers.
Finally, we have two new clips in our Galleries from Dan's recent appearance on Rove Live. The first features a short, rapid fire Q&A with the actor and the second, a behind-the-scenes clip of Dan and Rove joking during the taping, which can be viewed here.
On a related note, our Image Galleries have had an influx of new "December Boys" related images as of late. You can view almost forty stills from the film here along with our full "December Boys" Image Gallery.
UPDATE: Australia, it seems, has recently gotten its turn with actor Dan Radcliffe; we have a few new interviews to bring you from Dan's "December Boys" publicity tour down under. The 9am with David and Kim program on Network Ten featured Radcliffe and now has video of that appearance on their website. You can see this clip here, by scrolling down to find the link to Dan's interview.
The Sunrise program welcomed Dan twice during their morning programing this past week . First, the weekday edition sat down with Dan and film director Rod Hardy where Dan talks extensively about the film and his decision to take part in an independent project. The second is from Weekend Sunrise, where he elaborates more on this latest film. Both videos can be found on the main pages of their respective sites.
Many readers have also mailed to let us know that Dan took part in an AOL Instant Message type interview, which can be read here. In this interview, Dan a.k.a. 'decboydaniel,' answers questions about his latest film, fame and much more.
"December Boys" reviews have also started to appear now that the film has begun the first stages of its release in theaters around the world. The Hollywood Reporter calls the film "a modest though poignant film that touches on timeless themes of love, friendship and family," and says this about the film as a whole:
"December Boys" bathes in the summer sun and sea breezes even as it exudes the energy of youth and promise. It is set in an affable seaside community in South Australia in the 1960s, in a few homey shacks built within a cove. There is a flavor of nostalgia here, too, as old rock tunes waft through the air. The film's dramatic moments are small but exquisitely rendered so that you feel the emotions experienced so many years ago. The film lingers afterward in your mind like a favorite vacation that triggered moments of sheer intensity.
Further reviews of this film can be found via: The LA Times, Entertainment Weekly and Future Movies.
Many thanks to our amazing Gallery Girls and Video Angels!