Complete Set of Signed Harry Potter Books Up for Charity Auction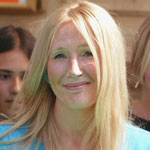 Sep 17, 2007
We have a couple pieces of news today relating to Harry Potter books that are being auctioned off in charitable efforts.
The first is a rare complete set of books signed by author J.K. Rowling are to be auctioned off on Ebay starting at midnight September 24, with proceeds to benefit Books Abroad, an organization which provides books to children in need in some 80 countries in the world. The BBC reports all that these books are rare and "are so valuable that they are being kept in an Aberdeenshire police station." You can see video of these books via the Books Abroad website (direct link to you-tube here), which reports these books are being auctioned off "is one of the items secured by Books Abroad as they get ready to celebrate their 25th anniversary with a fund-raising ball later this month." The website states:
"Through her Huntly connections, J.K. Rowling knows of the work of Books Abroad. Although she cannot attend our 25th Anniversary Ball in person, she was very keen to support us. We are very grateful to her for this generous contribution to our fund-raising efforts"
On a related note, there is another set of all seven Harry Potter books currently up for auction to benefit the Catie Hoch Foundation. This is a foundation which helps hundreds of children with cancer and their families. Readers will remember that Jo had been touched by Catie and her plight before the llittle girl lost her fight against neuroblastoma, an aggressive form of pediatric cancer, and Jo has continued to support this organization. Bidding for the signed set of Harry Potter books currently stands at $7,000 and the auction is ongoing until September 21. You can bid and learn more about this auction via this link.
Thanks to everyone who emailed!