Neca Series 2 Feature, Harry Potter Scene It? Game Updates and More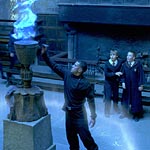 Sep 23, 2007
Uncategorized
We have several updates today regarding a few Harry Potter products.
First, NECA has launched the second in their special Harry Potter action figure features, as the Harry Potter and the Order of the Phoenix Series 2 is now online. In this feature you can see more on the Professor Dumbledore, Death Eaters, Harry Potter, and Professor Snape action figures, including some cool photos of the sculptures used to create Snape based on actor Alan Rickman. The previous Harry Potter action figures released from NECA earlier this summer remain available here in our Cauldron Shop,and we will update once Series 2 is available. Also be sure to check out the talking Hagrid action figure which was released recently.
On a related note, if you liked those Death Eater toys, just in time for Halloween, the new Death Eater costumes and masks are now available in our Cauldron Shop.
The second update involves the second edition of the Harry Potter Scene It? DVD game which we told you about earlier this year. For those who have not experienced this Harry Potter DVD game, there is now a new online demo from this second edition of the game, which you can play via this link. Enjoy!
Finally, the first four of the new High Definition Harry Potter DVDs that are due to be released on December 11 here in the US, including the standard format and the high definition format DVD box set with Order of the Phoenix, are now available for pre-order via our Cauldron Shop. All purchase made via our Cauldron Shop help support the entire Floo Network, and your continued support is most appreciated!