The Man Who Will be Slughorn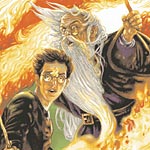 Sep 23, 2007
Uncategorized
Earlier this week actor Jim Broadbent confirmed he will be portraying Professor Horace Slughorn in the upcoming Harry Potter and the Half-Blood Prince movie, and there has been much interest and inquiries about the man who will be playing this pivotal character in movie six. The Telegraph has a new interview today with the acclaimed actor which does provide some insight and background that fans might enjoy reading. While Jim Broadbent does not discuss his role as the new Potions Master in the Harry Potter film, there is the following humorous exchange regarding academics of sort:
'I suppose I am very aware that I am not academic at all, that university was never an option. I suppose I've got a what's the word thing.'

Complex? 'Complex about not being intellectual.'

So how did he overcome that complex to play an intellectual in Iris? 'I think I might be intelligent but not clever. I didn't have the A-levels.'

He was expelled for drinking, he adds in his monotonal way. 'But only after A-levels. I was told I had to leave immediately after sitting my A-levels, which wasn't a great hardship. Except I didn't get to do the leavers' play.'

I'm sure that he has been asked back to his school as the conquering hero many times since. 'No, I haven't actually. I must be down on the list: Expelled.'
Production is underway on Harry Potter and the Half-Blood Prince, and the film will be released in theaters November 21, 2008.