David Yates Talks Army of the Dead for "Harry Potter and the Half-Blood Prince" Film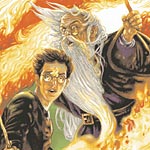 Sep 24, 2007
Uncategorized
In a new interview recorded around the time of the release of Harry Potter and the Order of the Phoenix, Voices from Krypton has a new audio interview with director David Yates who talks details and more about the upcoming sixth Harry Potter film. Noting that screenwriter Steven Kloves has turned in a "terrific and fun" draft that will lend to a very "character-driven" film, David Yates discusses things like character relationships as well as the final "wonderful" sequence at the end of the film. In particular, Mr. Yates specifically mentions the "epic" cave scene and the army of the dead sequence that will take place in Harry Potter and the Half-Blood Prince, as well as the relationship between mentor Albus Dumbledore and student Harry Potter.
In this riveting interview (runs approx 6:48) HBP director David Yates says the film will swing between drama and moments of horror to those of delicate character relationship moments. He also mentions the humor in the film, and the "unrequited feelings" between Harry and Ginny that will be incorporated, as well as the deeping and developing relationship between Ron and Hermione which he describes as "delightful and funny and tender and true." To listen to this audio interview, click here.
Harry Potter and the Half-Blood Prince is currently in production and will be released in theaters November 21, 2008.
Thanks Professor!