More on the Inferi and the Cave Scene from "Half-Blood Prince"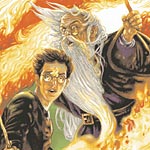 Sep 24, 2007
Uncategorized
Well it would seem that MTV pays attention to news on the Harry Potter sites, as the MTV movie blog has just now posted an excerpt from actor Dan Radcliffe who also discusses the army of the dead and the cave scenes in the upcoming Harry Potter and the Half-Blood Prince. Echoing sentiments made by director David Yates (see this previous news post ), Dan Radcliffe is also quite keen on filming these dramatic scenes for the sixth Harry Potter film, noting:
I'm really looking forward to filming the cave and all the stuff in there with the lake and the Inferi' Radcliffe enthused. "Me and [Michael] Gambon in a row boat for a few days. It's gonna be amazing."
Later, the Harry Potter actor speaks on how they will be filming the Inferi (aka dead corpses bewitched by the very dark magic of Lord Voldemort.) Dan Radcliffe says " I thought it was all gonna be largely visual effects, but they have built the cave' he revealed, confirming that the shoot will be all practical. "So it's gonna be very interesting to film."
Indeed! As noted earlier production on Harry Potter and the Half-Blood Prince is now underway with a release date set for November, 2008.
Thanks to Matt from HarryPotterFanZone for the heads up!