Trio, Bonnie Wright, Evanna Lynch, Matt Lewis Attend National Movie Awards; Emma Watson, Dan Radcliffe, OotP Named Winners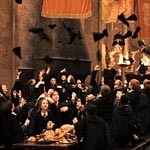 Sep 28, 2007
Uncategorized
As we told you previously, the trio of Dan Radcliffe, Rupert Grint, and Emma Watson were confirmed to attend the National Movie Awards in London, England. We have photos of them attending the awards, along with Bonnie Wright (Ginny Weasley), Evanna Lynch (Luna Lovegood) and Matt Lewis (Neville Longbottom). To see extensive photos from this event at the Royal Festival Hall in London, England, be sure to check out our image galleries.
The big news of the night of course is the awards, which have now been presented. Big CONGRATULATIONS are now in order, as "Harry Potter and the Order of the Phoenix" was named "Best Family Film." Also kudos go to actor Dan Radcliffe, who was named "Best Actor" for his performance as Harry Potter in "Harry Potter and the Order of the Phoenix." You can see photos of Dan accepting his award, here. Further props go to actress Emma Watson (Hermione Granger), who proved to be the winner in the Best Actress category! Cheers to all! More details on the wins, here, and from the BBC, here.
We have a full range of coverage, along with the photos from here via WENNand here via Getty Images., we have new video interviews, starting with Dan Radcliffe on the red carpet before the ceremony, then after winning his award in the press room, where the always classy Helen Mirren makes some lovely remarks about Daniel. To watch this video, click here. As noted Emma Watson won as Best Actress, and you can see her video interview here, as well as a new video interview with the always charming Rupert Grint (Ron Weasley), here where he briefly mentions starting work filming the sixth Harry Potter film, "Harry Potter and the Half-Blood Prince."
Finally, Emma Watson.ca let us know about some huge High-Res photos from the event they have in their galleries, here. The National Movie Awards will be broadcast tomorrow night in the UK on ITV1. Anyone who can capture this video, please send it in!