No Mere Owls for Delivery of "Harry Potter and the Deathly Hallows"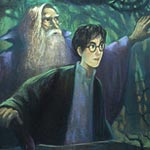 Sep 05, 2007
Uncategorized
Planes, trains, and trucks may be sources of transportation used by Muggles, but these were the methods used in delivering some 12 million copies of Harry Potter and the Deathly Hallows to eager fans worldwide on July 21, 2007. In a fascinating detailed article that is now online at DC Velocity, the extraordinary efforts made by the team at US Harry Potter publishers Scholastic to ensure the delivery of the book are highlighted, with the piece noting that "planning for the rollout began in January, even before Scholastic had the finished manuscript."
The level of detail and planning that went into working out the logistics of this massive delivery effort are discussed in this article which features lengthy interviews with Andrew Yablin, vice president of global logistics for Scholastic Inc who was in charge of the book's distribution.
As soon as information on the book's actual size and weight became available, Scholastic began the process of calculating load plans. "Then we could plug that into a formula to see how many books we could get on a truck and then reserve the capacity," Yablin says. The eventual load plan came within 1,000 pounds of the legal maximum allowable weight on the trucks.

When it came to the particulars of load planning, however, Scholastic's logistics partners took on much of the responsibility. For full truckloads, Combined Express" which acted as a third-party logistics service provider" worked with Hunt to design a uniform plan: Each truckload would be exactly the same as the next. The uniform loads were palletized, with each pallet shrink-wrapped with a corrugated top and banded. "It was a pretty tight package," Yablin says. "We tried to design the package so we could tell pretty quickly if product had escaped the system."
The books, which were kept under tight security before the release, included precautions such as alarms on the trucks delivering the long awaited final installment in the Harry Potter series. "For the tightly controlled release, all of the books were packaged, wrapped, and labeled with security in mind. Labels, for example, did not identify the book, and opaque black shrink-wrap on skids and pallets obscured the contents and made any tampering quickly evident. To add to security, drivers were told only that they were picking up printed material."
In addition to all 50 states, Scholastic also distributed the novel to a reported 29 additional countries for the release, which was no small task.
As with the trucked shipments, all of the air shipments moved on pallets. Those pallets were built for air export at one of the binderies and moved by J.B. Hunt to an ActivAir facility. That facility provided 24-hour manned security, primarily by off-duty police officers hired for the project. All shipments moved in wide-body aircraft that could accept LD7 aircargo containers. "Nothing was loaded in the belly loose," says Joe Kronenberger, vice president for the United States for ActivAir. The forwarder also established an over, short, and damaged (OS&D) reporting process on receiving to ensure that goods arrived intact.

When it came to scheduling, the goal was to have shipments clear at destination as close to the release date as possible. "Scholastic allowed us to put the plan together based on our experience with clearance and delivery in each country," Kronenberger reports. The shipments moved on a total of 17 airlines and all- cargo carriers.