USA Today: J.K. Rowling One of 25 Most Influential People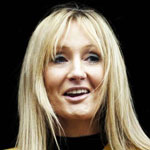 Sep 05, 2007
Uncategorized
As the USA Today is marking 25 years of publication, the newspaper is releasing 25 lists to mark the occasion. The most recent list is of the 25 most influential people of the past 25 years, and includes J.K. Rowling. The Harry Potter author is included on this list of those who "changed our world, transformed technology, mapped the human body and affected the way we relate to one another." Jo is ranked at number 20, with the paper noting:
The first Harry Potter book, completed in 1995 and initially rejected by several publishing houses, launched a seven-volume series that absorbed children and adults in complicated fantasies spanning thousands of pages.
Number one on the spot went to Microsoft chairman Bill Gates, followed by Ronald Reagan, 40th U.S. president, Oprah Winfrey, talk show host, and Francis Collins & J. Craig Venter, mappers of the human genome. As a reminder, back in April we told you the USA Today had released their list of most memorable books, with Harry Potter and the Sorcerer's Stone being the number one book.