Radcliffe on Reading "Deathly Hallows," New "December Boys" Clips Online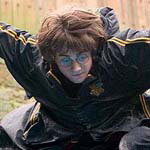 Sep 07, 2007
Uncategorized
Actor Dan Radcliffe is the subject of a new interview from Collider.com, where he gives some of his opinions on the final book in author J. K. Rowling's series, Harry Potter and the Deathly Hallows. In this segment of a soon to be released complete interview, Mr. Radcliffe discusses his growing up with the character of Harry Potter and of his experience of reading the final book, saying in part:
Q: Can you talk about where you were reading the book and what you were experiencing as you were reading it?

Daniel: Totally. There's a quote, I'm not going to take this interview down too pretentious a route though this next bit but there's a quote from Chekhov when he wrote to the woman who was the final love of his life, who he later married and I think died with, not that she died but he was with her when he died, and he addresses a letter to her and he says, ˜Hello, the last page of my life.' Which seemed very appropriate to me reading this book, because he has been such a part of my life now, I've been with him through all my teen years, and you were suddenly aware that ' I started reading it, it was wow, this is the last time I will take a journey with this character, and it was quite a special moment, and actually while reading the final chapters I was listening to Sigur Ros which was very, very appropriate actually, it really, really was, God I'd love them to do a song for one of the films, they'd be absolutely fantastic.

Q: Were you thinking about it as you were reading it, oh my God this book is amazing, and it's going to be such a good movie?

Daniel: I was thinking, how are we going to make it into a movie? It's going to be tough, but that's why someone cleverer than me adapts them. I think if we get it right, which I'm confident we will, it should be amazing.
The subject of filming the next Potter film, Harry Potter and the Half-Blood Prince, also was discussed in the interview. Radcliffe notes he is due to start filming in a matter of days and speaks briefly about the "Half-Blood Prince" script. When asked about the adaptation and possible cuts, he explains: "They have to. Obviously things have taken out, but everything that drives the story forward is very much in place."
Parts of the interview do contain book spoilers, so readers who have not yet finished the book should be cautioned. An audio recording of the full interview is also available for download in MP3 format.
On a related note, seven new video clips from Dan's upcoming film "December Boys" are also now available to watch via the Collider website. These clips include the trailer as well as six scenes from the film.
"December Boys" will be in select theaters in the US starting September 14th; a more complete list of cities showing the film in the coming weeks can be found on the official "December Boys" site .
Thanks very much to Steve for mailing!