"Harry Potter and the Order of the Phoenix" Wins People's Choice Award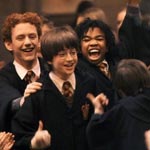 Jan 09, 2008
Uncategorized
"Harry Potter and the Order of the Phoenix" was named a winner at The People's Choice Award, taking the "Best Movie , Drama" award. In a short video acceptance speech taped on the set of Dumbledore's office, actor Dan Radcliffe (Harry Potter) thanked the millions of fans who voted for the award, and noted he is back filming Harry Potter and the Half-Blood Prince. You can watch the video of Dan's acceptance speech via the People's Choice website; to do so click here, scroll down to the Movie Drama category, then click where it says "watch speech." Congratulations to all at Order of the Phoenix!
Thanks crown and Mary!
On a related note, actress Emma Watson also updated her website with news that she is currently back filming Half-Blood Prince after spending the holidays with her family.