J.K. Rowling to be Honored by South Bank Show Awards?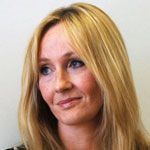 Jan 10, 2008
Uncategorized
There is a new report online tonight claiming that J.K. Rowling is to receive a special honor at the upcoming South Bank Show Awards. Richard Kay, columnist for The Daily Mail writes that the Harry Potter author is "due to receive an award for outstanding achievement" at the 12th annual South Bank Show Awards. He continues "But who has been asked to honour Miss Rowling? Step forward Madonna. The hyperactive warbler is a Potter fan, as is her 11-year-old daughter Lourdes. So both have been asked to come on stage and present the award to Miss Rowling."
While this would no doubt be quite an event, we are trying to find out more about this and will update when we can. The South Bank Show Awards will be presented at the Dorchester Hotel in London, England on January 29th, then later broadcast on UK channel ITV Sunday, February 3rd.