Flying Auror Style: Natalia Tena Talks Filming as Tonks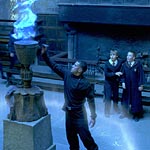 Mar 20, 2008
Uncategorized
Actress Natalia Tena talks flying, wizard style, in a new interview with the Swindon Advertiser where she discusses her role as Tonks in the Harry Potter films. Saying she has been filming recently for her return appearance as the Auror in the upcoming Harry Potter and the Half-Blood Prince, she recalls filming her flying scenes for "Order of the Phoenix." Stating she really loved the flying sequences ("The flying stuff was so cool,") Natalia Tena describes the process used in making these scenes as she noted "We are wrapped in green skin stuff and have this pole attachment. It moves like a buckaroo. They take a plaster cast of your bum so you get a proper seat on the broomstick. I love heights and these hot men (the technicians) blow air at me to make me look sexy – it was amazing," she said.
Admitting that she had not read the Harry Potter books nor seen the movies before she landed part of the Auror, she talked about her first audition for the role. "At the first audition I tripped over a chair, but I loved the idea of the hair changes that Nymphadora has, because that's what I do," said Natalia.The actress truly believes in magic."I was born on November 1, so Halloween was always important and on my 18th birthday my mum gave me a witch's broomstick and a wooden spoon, showing that I had become a witch and a woman," she said.
In addition to filming her role for the sixth Harry Potter film, Natalia Tena is currently appearing in the stage production of The Clean House at Bath's Theatre Royal in England which runs until March 22.