PotterCast 144: The Magic Dragon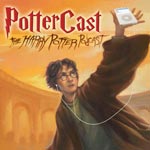 Mar 26, 2008
Uncategorized

Tonight we have for you the 144th episode of PotterCast, our Harry Potter podcast, featuring the return of Mr. John Dawlish, fresh from his recent adventures in academia. Melissa, John, and guest host Frak discuss the latest Harry Potter news including the possible removal of the iconic bridge at King's Cross, the "Half-Blood Prince" premiere in Los Angeles, and the announcement of Cheryl Klein and Tamora Pierce speaking at Terminus. We also send our well wishes to Dame Maggie Smith who has recently been diagnosed with breast cancer. To send your well wishes, click here. Next, Bit by Bit covers Chapter 10 of "Deathly Hallows" and goes through the Trio's arrival at Grimmauld Place, the discovery in Sirius' room, and much more. A new Phoenix Files also sends us to Grimmauld Place and the introduction of Kreacher along with the first view of the Black family tree. Finally, the drums bring you to the end of the show where we figure out Snape does the worm as well as talk about Potter Puppet Pals winning at the You Tube Awards and the possible return of Frak. To listen, just hit the "Play" button on the right side of the page (–>), or use iTunes, or direct download.
"The Magic Dragon"
– The bridge over Kings Cross.
– Christmas at Grimmauld place
– Hottttt Cheryl does a keynote at Terminus.
– Sirius in velvet.
– And we all know who R.A.B. is.
– LeakyCon Ball.
– Snape's doing the worm!
RT: 54:49
Editors: Stede Bonnett, Samantha McManus, Liz Turney, and Andrew Garner
LeakyCon 2009: A Harry Potter Conference in Boston
Podcast Alley
Digg
Terminus 2008
Direct download (25 MB).
Direct download low-bandwidth (7 MB).
Remember you don't need an iPod to listen. Listen easily on iTunes, which you can download and install here, by clicking here to listen, or you can just use the streaming Flash player at PotterCast.com or just on the right side of this page. Discussion of the PotterCast is right here. Enjoy!