Helen McCrory: "Wicked and Witchy" for Half-Blood Prince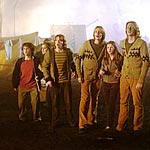 Apr 13, 2008
Uncategorized
Actress Helen McCrory is profiled in a new article now online from the Daily Mail in which she talks about her career, life, and role as Narcissa Malfoy in the upcoming "Harry Potter and the Half-Blood Prince" film. In this lengthy article, Helen briefly discusses her role as Narcissa in the sixth film, saying: "Just wait for me to be wicked and witchy." As readers will remember, due to her pregnancy during the "Order of the Phoenix" filming, she was unable to take on the role of Bellatrix Lestrange in that film, but, the article notes, was instead offered the role of Bellatrix's sister, Narcissa, in the "Half-Blood Prince" and "Deathly Hallows" films.
Production is currently underway for "Harry Potter and the Half-Blood Prince," which is set for a November 2008 release.
Thanks to SnitchSeeker for mailing.