Happy Birthday, Pomona Sprout!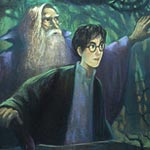 May 14, 2008
Posted by SueTLC
Uncategorized
Lift your glass, give a cheer, for today a Hufflepuff's birthday is here!

This editor is quite pleased to report that as noted by the calendar on JKRowling.com, birthday wishes are in order for the Head of Hufflepuff, Pomona Sprout. Cheers!