PotterCast 154: 800 Words!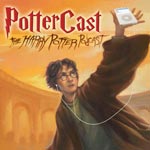 Jun 02, 2008
Uncategorized

Tonight we have for you the 154th episode of PotterCast, our Harry Potter podcast, online for your listening pleasure. The entire quartet is back this week and poised to discuss the big news of a Harry Potter prequel written by J. K. Rowling being auctioned on June 11th. Sue brings us the latest news on this auction, what is written on the card, and much more. In addition to this news, we bring you information on the 10th Anniversary Edition of "Sorcerer's Stone," the "Half-Blood Prince" filming, and the tragic death of Robert Knox last week. We then have for you the next installment of Phoenix Files where the foursome discusses the next part of the OotP film in which the Trio fights back against Umbridge and takes flight to the Ministry. A new edition of Canon Conundrums follows with further theorizing on the 800-word notecard and what it might contain. Finally, the PotterCast quartet is back with an Acting Troupe update, a PotterCast PSA on safe kayaking, John's plea for a Disneyland job, and the French word of the week. To listen, just hit the "Play" button on the right side of the page (–>), or use iTunes, or direct download.
"800 Words!"
– The quartet discusses Jo's prequel to Harry Potter.
– John the Insightful.
– The greatest weapon is love!
– The cat chooses the wizard.
– It's Jo's own "fan-fic," how is her handwriting?
– 800 words: The Prequel.
– John needs a job at Disneyland.
– A PotterCast PSA on safe kayaking.
RT: 74:55
Editors: Jeff Gregory, Stede Bonnett and Andrew Garner
LeakyCon 2009: A Harry Potter Conference in Boston
Podcast Alley
Digg
Terminus 2008
Direct download (36 MB).
Direct download low-bandwidth (9 MB).
Remember you don't need an iPod to listen. Listen easily on iTunes, which you can download and install here, by clicking here to listen, or you can just use the streaming Flash player at PotterCast.com or just on the right side of this page. Discussion of the PotterCast is right here. Enjoy!