Jason Isaacs Confirms Return as Lucius Malfoy for "Deathly Hallows"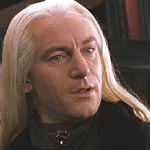 Jun 25, 2008
Uncategorized
Actor Jason Isaacs has given a new interview where he confirms again he will return as Death Eater Lucius Malfoy in the film version (s) of Harry Potter and the Deathly Hallows. Speaking to Coming Soon.com, Jason says while he is uncertain when he is to begin filming (he thinks February at this point), he is very much looking forward to returning to the part, and to working with actress Helen McCrory who has taken on the role of Narcissa Malfoy.
"I am very excited. Also, the woman who is playing my wife I've been a fan of for a very long time. In fact, one of the great things about going to do "Harry Potter" at all is that a lot of people who are my acting idols I see sitting in make-up chairs beside me. To get to do scenes with Gary Oldman and Richard Harris, Michael Gambon and now Helen McCrory, who I'm a big fan of ' it's fabulous."
Jason also admits he had not read "Deathly Hallows" before learning that his character would return, but did admit again that he spoke with author J.K. Rowling before the publication, begging for Lucius to get out of prison after book five. Quotage:
"I'm not quite strong enough to pick up a book of that weight. I had a couple of people to help me, and a winch. The secret can be out now. Before it came out I wasn't quite sure ' there was a point where I wasn't sure I was going to do anymore because there wasn't much for me to do in number five and I wasn't in number six. I met Jo Rowling for the first time at a big awards dinner. I went over and basically fell to my knees and said "Get me out of prison, I beg you." She looked over her shoulder and looked back at me mouthing "You're out. Chapter One." And that was it, that's all I had to know, and I signed up immediately.
Jason Isaacs also says he is currently filming a guest spot for the hit HBO series "Entourage," noting: "I play a truly monstrous character. Frankly, there is not point in competing with Ari frankly. The thing is all those characters are so deeply drawn, a little like "Harry Potter" you've got to hit the ground running. Similarly to "Harry Potter" also, you get to set and it's such a popular show here in Hollywood that they are so comfortable with what they are doing. They are so good at what they do that you feel like you have to come in with some pretty bold colors or you'll fall through the cracks."
Thanks to Coming Soon!