"Half-Blood Prince" Reportedly to Open with "Big Attack"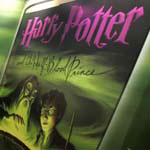 Jul 02, 2008
Uncategorized
There is an interview online tonight with new comments from actor Dan Radcliffe and director David Yates, speaking on the upcoming Harry Potter and the Half-Blood Prince. The Sun has excerpts they say are from an interview conducted with Empire magazine and contains a new quote from director Yates on the opening sequence of the sixth Harry Potter film as follows: "We're opening with a big attack. We'll bring a major London landmark crashing down."
While we can not be certain, readers will recall that there was filming on location in London on Millennium bridge (photos here in our galleries) earlier this year. Reports did state the filming on the bridge was for a sequence that would show the apparent destruction of the bridge, to indicate the ongoing havoc the Death Eaters are wreaking in the film.
The UK tabloid the Sun also has an additional quote from actor Dan Radcliffe who apparently is comparing the upcoming Half-Blood Prince to the classic cult hit film Trainspotting as he is cited as saying "There's a fair amount of sexual energy and drug parallels. We have a couple of Trainspotting moments." He also seems to indicate the growing intensity and serious subject matter of the new film, as the tabloid sums up by noting "There was just one promise from Daniel " the dark parts are so dark, they're black. " You can also see a new photo of the actor at this link to the story.
Thanks to Mike, and all who emailed!