PotterCast 158: Crab People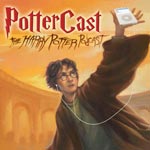 Jul 02, 2008
Uncategorized

PotterCast, our Harry Potter podcast, is online this evening with its 158th episode. In the news this week, Sue brings us information on Jason Isaacs in the "Deathly Hallows" film, actress Kate Mulgrew joining Dan Radcliffe in the Broadway production of "Equus," and news on Emma Watson's upcoming animated film. In addition to this, we bring news on an exciting PotterCast event taking place on the East Coast this summer as well as Melissa's big news on a certain soon to be published book. Canon Conclundrums makes its return next, with the topic of wizarding schools in the States on the minds of the PotterCast quartet. Chapter Thirteen of "Deathly Hallows" is then the subject of a new Bit by Bit which follows the progress of the Trio battling Umbridge in the Ministry of Magic. The drums conclude this episode along with a PotterCast survey, more tour talk, information about Terminus in Chicago, and John spoiling Melissa's book. To listen, just hit the "Play" button on the right side of the page (–>), or use iTunes, or direct download.
"Crab People"
– Jason Isaacs is cool.
– Big summer plans for PotterCast!
– Melissa's secret news.
– How deep does the magic go?
– Special programs for a magical educational community in America.
– There she is! Miss Umbridge.
– Lots of vomit!
– A PotterCast survey for you.
– Bella is a good cat.
– Melissa's Book Teaser of the Week (Month).
RT: 66:45
Editors: John Noe, Andrew Garner, and Jeff Gregory
LeakyCon 2009: A Harry Potter Conference in Boston
Podcast Alley
Digg
Terminus 2008
Direct download (40 MB).
Direct download low-bandwidth (8 MB).
Remember you don't need an iPod to listen. Listen easily on iTunes, which you can download and install here, by clicking here to listen, or you can just use the streaming Flash player at PotterCast.com or just on the right side of this page. Discussion of the PotterCast is right here. Enjoy!