J. K. Rowling Wins Mythopoeic Society Award; Named Among 50 Best-Loved British Authors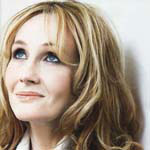 Aug 19, 2008
Uncategorized
There are two pieces of news online tonight regarding Harry Potter author J. K. Rowling and honors she recently received. First, the Mythopoeic Society, which is a non-profit agency promoting the study and enjoyment of mythic literature, has chosen Ms. Rowling the winner of its Mythopoeic Fantasy Award for Children's Literature. This award "honors books for younger readers (from "Young Adults" to picture books for beginning readers), in the tradition of The Hobbit or The Chronicles of Narnia." J. K. Rowling was chosen by society members for this award which nominates and awards authors for their work annually.
On a related note, Ms. Rowling has been included on a list Britain's best-loved authors. The Telegraph reports that Ms. Rowling came in number three on the list, with authors Enid Blyton and Roald Dahl coming in first and second. This list, created to mark the 2008 Costa Book Awards, polled adult readers on their favorite authors. Authors who made the top ten include: Jane Austen, William Shakespeare, Charles Dickens, JRR Tolkien, Agatha Christie, Stephen King, and Beatrix Potter. The full list of fifty authors can be found via this link.
Many congratulations to Jo!