New Scans from 2009 HBP Calendar Include Attack on Burrow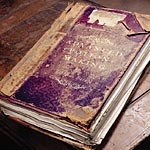 Sep 01, 2008
Uncategorized
New photos from the 2009 "Harry Potter and the Half-Blood Prince" calendar surfaced online today, and include this new look at the attack on the Burrow. The scene, which has been confirmed previously by the producers of the film, shows Arthur Weasley (Mark Williams), Remus Lupin (David Thewlis) and Harry (Dan Radcliffe), with a burning building and fire all around. Also of interest is this new photo of Draco (Tom Felton) and Bellatrix (Helena Bonham Carter), with the words "Unbreakable Vow" written in the corner and some buildings behind them, possibly Spinner's End.
Additional new photos include a look at the staff of Hogwarts, including Hagrid (Robbie Coltrane), Snape (Alan Rickman) and Professor McGonagall (Dame Maggie Smith) along with Professor Dumbledore (Michael Gambon) who features in several other photos, including this one with what looks to be the ring that is the Horcrux, this with Harry and the cave in the background, and another with Harry and some vials for the Pensieve.
Actor Tom Felton as Draco Malfoy is featured in several other photos in this new calendar, including one with Snape here, one with Filch (David Bradley) here, and a photo where he is holding a bird. Finally, you can see the back of the calendar, and UPDATE: More scans are now available, with Harry and Ginny here, and a new photo of Lovelorn Ron, here. Also new are looks at Remus Lupin, and another of Ron Weasley.
Thanks much to UHP for mailing!