Dan Radcliffe Talks "Equus," Theater, and Acting in New Interview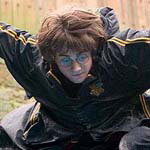 Sep 12, 2008
Uncategorized
Actor Dan Radcliffe (Harry Potter) is the subject of a new, expansive interview from the AP on his forthcoming Broadway debut as Alan Strang in the play "Equus." The young actor sat down with the AP to discuss this role, expanding his acting abilities, and more in regards to the revival of the Peter Shaffer play which is currently in preview performances and opens officially at the Broadhurst Theater on September 25th. On the character of Alan Strang, which Dan first stepped into last year in London's West End, he observes that "the brilliant thing about Alan is that you wouldn't notice him walking down the street… Alan is not academically bright but he has amazing intellect." For his Broadway performances, Dan feels he is "more relaxed this time," and goes on to note how his training with a vocal coach over the past three years has strengthened his performance:
"I am a lot more confident about (my voice) being heard now. In London, that was more of a worry. Now there's room for me to do … to play around with the words and put more color into them, sort of a musicality, to try and give every word its individual identity, I suppose…

"There are a lot of actors who think you can just go on stage and do it " you can't. You need to project. You can give the most amazing performance on stage but if the audience can't hear you, then it's useless."
It was his performance as this character that garnered praise from fellow actor and "Equus" co-star Richard Griffiths (Vernon Dursley) who is quoted in the article as saying: "I'm really pleased with him. He's right at this awful stage of moving from being a child actor to no longer a child." To this, Dan responds:
"To work with Richard on stage and in a much more intimate way than Vernon in the 'Potter' films is amazing. His intellect is huge. But … he is not snobbish with the knowledge he has. He shares it and he wants to talk about it. I find him a real joy to be around. For me, it seemed I would have to be really moronic not to take the part."
Continuing on in the interview, Dan explains why he chose to take on this project, and expands on his thoughts on acting:
"The stage is much more a test of nerve (than film) and seeing what you are made of," Radcliffe explains. "It would be very easy to do simple stuff. It doesn't really interest me that much. Even if I screw up, it's good to know what my limits are. It's good to get a sense of what I can and cannot do.

"Every actor has limits. It's sort of testing out where they are. Luckily, I haven't found them yet. I suppose the thing I've learned is that I think I am more capable than I thought I was," he says with a laugh.
After performing on stage, Dan has also picked up a few of his own tricks for winding down after the performance. Radcliffe remarks on an interest in watching the History Channel, which he admits, "is what I have been doing the last few nights." He also comments on the audience, who he feels performers should credit "with massive (amounts) of respect because some of these guys see 50 shows a year." Dan adds:
"When you are at the curtain call, smile. I really object to it when I am sitting there in the theater, watching actors who are in a great play " and they come out and don't smile at the curtain call. I think: 'You are lucky enough to be in a really brilliant play, now show some appreciation for the fact that you are there. Enjoy it.' We're doing 'Equus' and we smile. If you can smile at the end of 'Equus,' anyone should be able to."
Finally, Dan briefly mentions the upcoming filming for the "Harry Potter and the Deathly Hallows" films, which is expected to being after his "Equus" run wraps. Dan says: "I am sure I will be knackered but I adore filming on 'Potter. I can't wait to get back there."
As TLC has reported previously, "Equus" is currently in preview performances in New York at the Broadhurst Theater. Tickets are still available for performances via this link. "Equus" will make its Broadway debut on September 25th for a limited 22 week engagement. More info on the play can be found right here.