Emma Watson Updates About Filming Slughorn's Party Scene in "Half-Blood Prince"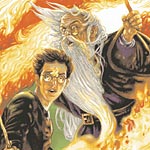 Jan 10, 2008
Uncategorized
Actress Emma Watson (Hermione Granger) has updated her website today with a diary entry on filming for Harry Potter and the Half-Blood Prince. She writes today was her first scene working with actor Jim Broadbent, who will be portraying Professor Horace Slughorn in the sixth Harry Potter film. Emma writes:
"It's amazing to be working with him. It's also great because I have been eating profiteroles ALL DAY at Slughorn's dinner party!!!"
Emma goes on to note that she has been hard at work studying for her exams, and she also thanked all who supported her by watching her recent television film "Ballet Shoes."Harry Potter and the Half-Blood Prince will be released on November 21, 2008.