Rumor Alert: Spielberg and a Two Part "Deathly Hallows" Film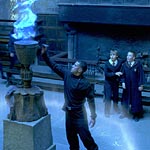 Jan 13, 2008
Uncategorized
Hang on everyone, there is a new rumor tonight regarding famous directors and a possible two part Harry Potter and the Deathly Hallows film. The Daily Mail is reporting tonight that crews currently working on "Half-Blood Prince" have been told the final Harry Potter film "will be released in two halves." The article then points out while the financial benefit would be significant ("it could mean a £500million bonus in ticket sales") the paper reports this purported move is artistic, citing an unnamed source who says:
"There's so much to fit that the view is the last movie should be in two halves. There is a huge battle when Harry, played by Daniel Radcliffe, takes on Voldemort that needs to be done really well."
The article then goes on to cite that Warner Bros, which has still not formally announced a director for the final film, is considering some big name directors for the final movie, including legendary Oscar winning director Steven Spielberg. Quotage: At Warner Bros, who are rumoured to be thinking of Oscars and a big-name director such as Steven Spielberg for the final film, a spokesman said: "People are discussing all possibilities."
Readers will remember, and as cited by J.K. Rowling on her website, Steven Spielberg had considered directing the first Harry Potter film, but declined. As we have reported previously as well, other names have surfaced in regards to directing "Deathly Hallows" including Alfonso Cuaron, David Yates, Chris Columbus, and most recently Guillermo Del Toro. As exciting as all of this sounds, please keep this one very much in the rumor category for the time being. We are trying to verify this, and will update with more when we can.
Thanks mc and rodeo!