Golden Globe Awards Follow Up: Broadbent, Christie, and "Sweeney Todd" Film Named Winners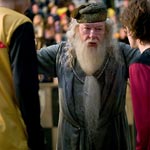 Jan 14, 2008
Uncategorized
The Golden Globe awards ceremony, which took place without its usual red carpet glitz and glamor and celebrity appearances due to the ongoing Writer's Guild strike, was broadcast last night on NBC as a press conference. As we told you previously, a number of actors who have appeared in the Harry Potter films were nominated for their roles in various film and television productions in the past year. Actress Julie Christie, who portrayed Three Broomsticks pub landlady Madam Rosmerta in "Harry Potter and the Prisoner of Azkaban" film, took home top honor in the category of Best Performance by an Actress in a Motion Picture – Drama for her role in the film "Away From Her." Additionally, in the category of Best Performance by an Actor in a Mini-Series or Motion Picture Made for Television, legendary actor Jim Broadbent (Professor Slughorn) received the award for his part in the HBO television film "Longford." Mr. Broadbent was nominated in this category along with fellow Harry Potter actor, Jason Isaacs (Lucius Malfoy).
Finally, the film "Sweeney Todd:The Demon Barber of Fleet Street" in which actors Helena Bonham Carter (Bellatrix Lestrange), Alan Rickman (Severus Snape), and Timothy Spall (Wormtail) appear, was awarded the Best Motion Picture honor in the Musical or Comedy category.
A complete list of the winners can be found right here.
Congratulations to all!