J.K. Rowling One of 50 Greatest British Post War Writers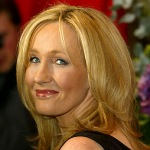 Jan 15, 2008
Uncategorized
The Times newspaper has compiled a list of the top 50 greatest British writers since 1945, and J.K. Rowling was ranked at number 42. Noting that children read the Harry Potter books "simply because they love them, and because Rowling has an extraordinary ability to hold the reader until the very last page," the paper continues:
"She has created a world that children want to enter and never leave.Like all the classic British children's fantasy writers, Rowling sets the epic firmly in the domestic, everyday world. Yes, she uses some familiar elements (show me the "literary" author who hasn't borrowed themes from previous literary authors), such as wizards, witches, boarding schools and orphans destined for greatness, but she builds a new and very detailed world out of them. With its satires on politics, education and the media, though, her world is far from simplistic. These are well-told stories that will enthral, amuse, scare and delight children for generations to come. One to read: Harry Potter and the Philosopher's Stone (1997) " because you should always start a good story at the beginning."
Others of note on the list include Philip Pullman (43), Roald Dahl (16), C.S. Lewis (11), J.R.R. Tolkien (6), George Orwell (2), and Philip Larkin was listed at the top spot. Thanks MFC and Klooby!