Movie Magic Magazine Feature on Future of Harry Potter Films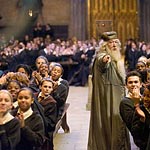 Jan 16, 2008
Uncategorized
Movie Magic Magazine, on newsstands and in bookstores now, talks of the last three Harry Potter films, "Order of the Phoenix, "Half-Blood Prince," and "Deathly Hallows" in a multiple page spread in their January 2008 issue. Featuring scores of previously released photos from the "Order of the Phoenix" filming, the magazine contains interviews with Dan Radcliffe (Harry Potter), Rupert Grint (Ron Weasley), Emma Watson (Hermione Granger), and Harry Potter author J. K. Rowling. In the interview with Dan Radcliffe, he speaks briefly of returning to the set after a filming break while Rupert, in his interview, speaks of the romantic turn taking place between his character and Hermione Granger. On that subject, he says:
"Filming a kiss scene or a love scene, that would be awkward, I think. I imagine the first time we do it, we might just burst into laughter, because of course we're friends, and it's just going to be strange at first. Of course, with movies, you have to film things over and over again, so eventually we'll get it right, but the first time, if we have to kiss, it's just going to be awkward as anything. Still, I think I'd like Ron's kiss to be very enthusiastic. Harry's first kiss was very nice, but I think Ron is going to be very enthusiastic about finally kissing Hermione."
In addition to a look at the making of the fifth film, this magazine features Director David Yates and Producer David Heyman discussing beginning work on the sixth film, "Harry Potter and the Half-Blood Prince." Photos and reports, we first brought you back in October, showing some of the first of the on-location filming of "Half-Blood Prince" in Lacock, England, were also included in this extended feature on the Harry Potter movies.
You can see a number of scans from this issue and read snippets of the articles here in our Image Galleries thanks to Magical-Menagerie.
Thanks Megan!