J.K. Rowling to Speak at Harvard Commencement June 5, 2008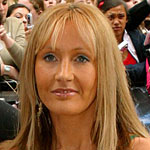 Jan 17, 2008
Uncategorized
J.K. Rowling will be the principal speaker at the Harvard Commencement ceremony June 5, 2008. The Harry Potter author will be featured at the prestigious university's 357th graduation ceremony this summer in Cambridge, Massachusetts and will also receive an honorary degree. The president of Harvard said:
"Perhaps no one in our time has done more than J.K. Rowling to inspire young people to experience the excitement and the sheer joy of reading' said President Drew Faust. "Her tales of Harry, Ron, and Hermione and their Hogwarts adventures have cast a spell on millions of readers around the world. Harvard isn't exactly Hogwarts, but I'm sure that her visit with us next June will be a moment of magic for J.K. Rowling's many admirers across the University."
"It will be an honor and a thrill to welcome J.K. Rowling to Harvard' said Jonathan Byrnes, president of the Harvard Alumni Association. "There are countless Harry Potter devotees throughout the Harvard family, and we look forward to warmly welcoming one of the world's best-read authors to our Commencement festivities."
Harvard University is renown for having some of the leading figures of our time speak at their graduation ceremony each year; a full list of past speakers can be found here.
Thanks E!